Fair Legal works with clients  facing legal consequences in Criminal, Civil and Family Law matters
Litigation is a process of resolving legal disputes through negotiation and, if negotiation is not successful, through advocacy in a court of law, usually with a judge. Civil Litigation deals with disputes that arise between individuals and businesses because of broken promises, negligence, disputes over money, debts or other failures to respect or protect legal rights and obligations. Family Litigation deals with disputes over legal rights and responsibilities regarding children, financial support, property, physical safety and divorce that arise after the breakdown of important personal or family relationships. Criminal Defence deals with the protection of the rights and other interests of our individuals and businesses facing criminal or regulatory charges.
Charles Fair and the Fair Legal team use a multi-disciplinary, holistic perspective to work collaboratively and professionally with opposing counsel and litigants and when negotiated resolution is not possible, will advocate zealously in the courts with integrity, honour and courage. 
We tailor our approach to the specific needs of each client with care, respect and creative problem-solving. Calgary lawyer Charles Fair founded Fair Legal because he is passionate about helping others and ensuring their rights are protected.
We understand that legal problems involve much more than what goes on in the courtroom. Fair Legal can help you consider the long-term impact that these problems have on your relationships with the people in your life, your reputation, your business, and your finances.
When you think about your current legal situation, think about how it will impact your time, money and reputation. These are important things in your life that we want you to feel good about having the right resolution. You are not just a case; you are a human being. At Fair Legal, we will help you think through how this matter is going to help your whole life, not just help you legally.
At Fair Legal, we are your champions for justice when you are facing Civil Litigation, Family or Criminal legal problems. If you have decided that you need legal representation to solve a problem, it is important that you hire a lawyer who you can trust to work on your behalf and protect your rights and interests. You have many choices of lawyers. We believe that Charles Fair and the team at Fair Legal is the best choice to solve your legal problem.
Do you need to protect your children, property or the life you know?
We work with our clients to find solutions to some of the legal and non-legal issues that often make effective resolution more difficult. We are committed to helping you face your family-related legal matters head on with honest, straightforward advice and experienced legal representation.
Are you being sued or do you need to sue someone?
Litigation cases are about disputes that have usually arise because of broken contracts, negligence, or other failures to respect personal rights and obligations. Fair Legal is prepared to enforce or defend your rights and provide representation to individuals or businesses whether it is to right a wrong, honour an agreement or obtain compensation for a personal injury.
Were you arrested? Accused of a crime?
When you are charged with an offence, you are presumed innocent until proven guilty. Whether you are the target of an investigation, have been criminally charged with an offence, or are concerned you may be charged, you need to be confident that you are being both proactive and aggressive in your efforts to protect your legal rights.
We are your champions for justice when life gets messy.
"I became a lawyer because I am passionate about helping others and ensuring their rights are protected."
Melanie SeneviratneBusiness Manager
"I moved into the legal field because I wanted to share my experience of helping others and making a difference."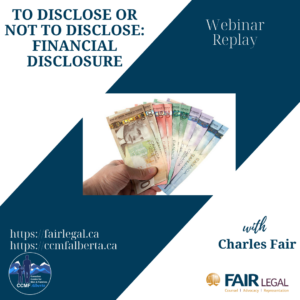 WATCH: Webinar Replay To Disclose or Not To Disclose- Financial Disclosure – Divorce or Separation in Alberta with Calgary family lawyer Charles Fair. Presented by the Canadian Centre for Men and Families.
Read More
The Fair Legal team works hard to gain our clients' trust and to provide them with the best possible outcome for their situation.
Frequently Asked Questions
A retainer is money you pay to a lawyer to secure their services. This money is a deposit on future legal fees and expenses the law firm will incur on your behalf. It is like always having gas in your car. At Fair Legal we will hold the retainer-like collateral. You will be invoiced monthly and you will be required to pay the invoice and leave the retainer in place until the matter is closed when you would be refunded what is remaining after your final invoice
In Canada, you have the right to remain silent, meaning you do not have to answer any questions the police ask you. You also have the right to counsel, meaning you have the right to talk to a lawyer without delay when you're being detained or arrested. You should always speak to a lawyer before you speak to the police. However, contrary to what you may see on TV in the US, in Canada you do not have the right to have a lawyer present with you during questioning.
The simplest way to collect money that is owed to you is simply to ask the debtor to pay. Our legal system expects that generally people will pay the debts they owe and sometimes need to be reminded of their obligations. A lawyer's name behind the letter will often to work. If collection efforts are unsuccessful a lawsuit is usually the next steps in the litigation process.
Make Sure You're Informed and Protected
Sign up for our newsletter to ensure that you have the most current news and updates on legal issues that can impact you and your family.