Fair Legal is honoured to have been selected as one of the CBRB Best Businesses In Canada 2022. This recognition is based on client reviews and satisfaction.
Our team works together to ensure that each client receives the attention they deserve. We tailor our approach to the specific needs of each client with care, respect and creative problem-solving. Calgary lawyer Charles Fair founded Fair Legal because he is passionate about helping others and ensuring their rights are protected. We work hard to earn our client's and colleagues' trust and appreciate this recognition.
The (CBRB) Canadian Business Review Board Inc. reviews and analyzes customer feedback on private forms and public reviews for a business to be successfully nominated and approved for this recognition. The award provides potential clients and partners with reassurance and peace of mind that the CBRB team has found that businesses selected meet or exceed performance criteria, including;
Minimum 4-star Google Reviews Average
Strong Vision
Customer-centric Approach
Customer Satisfaction
Business Leadership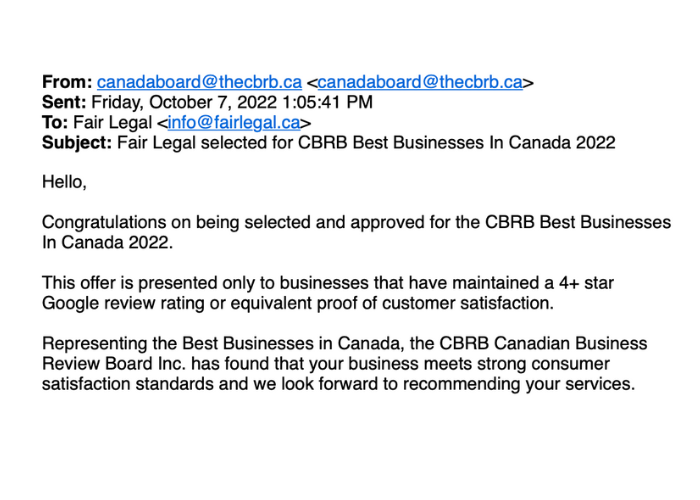 Contact Calgary Lawyer Charles Fair
Charles Fair has been practicing law for nearly 30 years and founded Fair Legal because he is passionate about helping others, ensuring their rights are protected and treated fairly. Fair Legal deals with
Criminal Defence
Family Law
Civil Litigation
Contact Calgary family lawyer Charles Fair at 1 (403) 239-2249 to schedule a confidential meeting with a member of our legal team. 

Calgary lawyer Charles Fair brings over 30 years of experience to Fair Legal in criminal, family and civil litigation. Charles draws on his personal experiences related to each field of law which helps him to understand and relate with each of his clients. He is compassionate, caring, and will always be your champion for justice when life gets messy.